WLS Option #1: Lap-Band
Lap-Band reduces the amount of food you are able to consume in one setting without removal of any part of the stomach. This is accomplished through the insertion of a band around the top part of the stomach which creates a smaller stomach pouch for food. This makes you feel full faster and longer as the band also restricts how quickly food can progress from your stomach to the rest of your digestive system. For more information about the Lap-Band please visit
Lapband.com
.
WLS Option #2: Gastric Bypass (Roux-En-Y Gastric Bypass)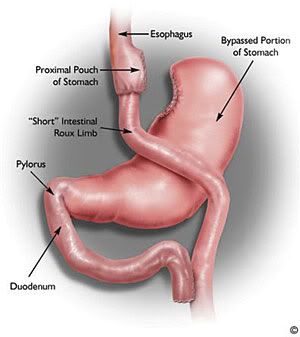 Gastric Bypass surgery reduces the size of the stomach through the surgical removal of a large portion of the stomach. It also involves a redirection of the small intestine which bypasses the upper portion of the small intestine. In addition to reducing the stomach size the surgical removal of the stomach reduces the production of the "hunger hormone" which controls appetite. This helps you to feel full longer and to process food longer. For more information about Gastric Bypass please visit
Roux-En-Y Gastric Bypass on Webmd.com
.
WLS Option #3: Gastric Sleeve *Jimmy's Surgery*
Gastric Sleeve Surgery on thebariatricsurgeryresource.com
.
WLS Option #4: Gastric Bypass with a Doudenal Switch
(Biliopancreatic Diversion with Duodenal Switch)
This is copied directly from Wikipedia as I didn't know how to summarize it myself.
For more information about Duodenal Switch please visit
Doudenal Switch on Wikipedia.org
.
I hope this helps to make you aware of the kinds of Weight Loss Surgeries available. Please consult your doctor if you are considering WLS.