Jimmy and me at #WinningSM Youth Camp 2012.
Hi! My name is Christiana Mustion, and I am the primary author of this blog. As you have probably figured out this blog is primarily about the experiences my husband (Jimmy) and I have as we prepare for and go through Jimmy's weight loss surgery. So let me take this opportunity to tell you a little more about us.
Jimmy and I met in 2000 when he was 24 and I was 16. No, we didn't start dating then--thank goodness! We both had a lot of growing up to do at that point :) We started dating and got married in 2006. We are both proud to say that we married our best friend and we truly enjoy spending time together. We are a team and we can't hope to achieve true change in our lives without the other's support.
Jimmy and I moved to Saint Joseph, Missouri in the fall of 2011 when he joined the staff of McCarthy Baptist Church as the Associate Pastor of Students. I work as an Advertising Production Artist at the Saint Joseph Newspress. Since we both have full-time jobs we are always busy and on the go, but we are able to do what we love and for that we are truly grateful!
We look forward to spending time with you here on Jimmy Goes Gastric as we succeed, struggle and discover what it means to have physical freedom for being overweight.
God Bless!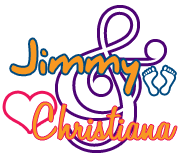 More Resources:
Life as a Minister's Wife
#WinningSM
McCarthy Baptist Church
Mustion Design